Capital Wealth Planning had the privilege to present the 5 -star rated Enhanced Dividend Income Strategy (available on AMS) to a group of Private Registered Investment Advisors who utilize Raymond James Financial Services as a custodial platform to operate their financial practice.
Jim Blakeslee – Director of National Accounts had the opportunity to discuss the current state of the market, asset allocation for HNW investors and where the Enhanced Dividend Income SMA is a fit in the over all asset allocation model.
The Enhanced Dividend Income Strategy is a rising dividend blended mega cap portfolio with a tactical covered call component. The portfolio is designed to deliver an estimated 2-3% of annual dividend income and additional 2-5% of annual option income dependent on levels of volatility. 
With 20-26 underlying securities, the strategy is concentrated in nature. Each sector weighting is drawn from the S&P 500. 60-70% of the holdings are DOW 30 components.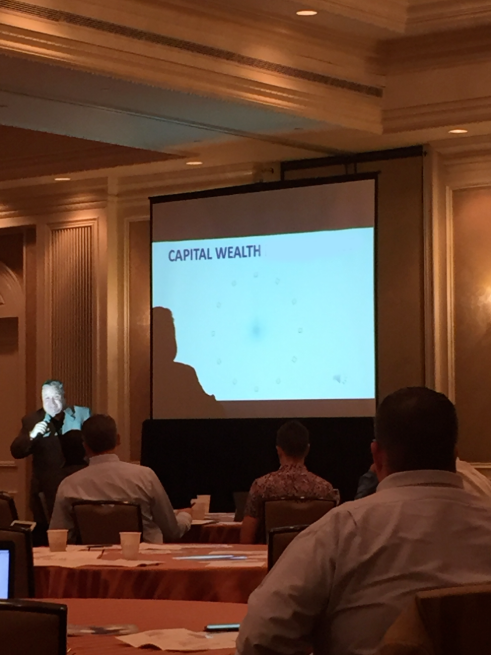 Unlike other covered call managers, CWP does not cover 100% of the portfolio. On average the Enhanced Dividend portfolio is covered 30-60% of the time. This allows the underlying holdings to participate in more capital appreciation. CWP Managers actively decide not to write call when the VIX is a low levels and stocks are exhibiting strength. We know from experience that writing calls just for the sake of writing calls can lead to relative under performance and drag down returns over time. 
If you would like to obtain more information or speak directly with one of our portfolio managers about the Enhanced Dividend Income Strategy, please fill out the form on our Contact Us page.
3-year rating out of 24 option writing SMAs as of March, 31st 2017.  © 2017 Morningstar, Inc. All Rights Reserved.